About Us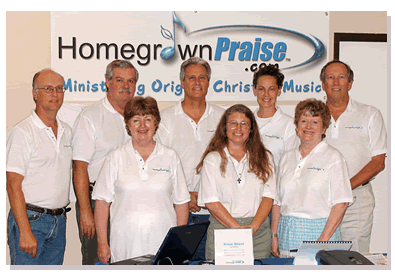 Homegrown Praise's growing ministry team includes (l to r): Michael T. McCubbin - VP Operations and musician; Ed Krusiewig - tech and concert support, and musician; Beth Nichols - chief musician; Caz Taylor - President; Jane Johnson - tech support and web design; Rachael Siebens - art director; Judy Ross - art gallery director; Bill Gruber - Executive Vice President. (Not shown - Judy & Keat Wade - prayer directors; Haytham Allos - database support).



| | |
| --- | --- |
| In 1982, Homegrown Praise President Caz Taylor created a company named "Helper Enterprises" to provide marketing and creative services to the Christian community. Mr. Taylor is an avid student of scripture, a seasoned broadcaster and a solid Bible instructor, teaching college level classes and worship seminars Interdenominationally. He has recently completed an in-depth study book on worship entitled David's Tabernacle Patterns for New Testament Worship, published by Oasis House Publishing. His earlier book is a 500-page fiction, entitled The Open Plot, published by Amuzement Publishing. | |
| | |
| --- | --- |
| | Executive Vice President Bill Gruber brings extensive experience in audio/video production and management. Besides his involvement in radio station ownership, he is past president and current board member of the San Diego Chapter of the National Academy of Television Arts & Sciences; he has served on several advisory boards including the San Diego Community College Telecommunications Advisory Board; and produced the San Diego Emmy Awards presentation telecast and ceremony. Mr. Gruber was also the founding producer of Turning Point with Dr. David Jeremiah. To Bill's further credit, he has won numerous media honors including ten Emmy Awards. |
| | |
| --- | --- |
| Vice President of Operations Michael T. McCubbin brings a wealth of knowledge in areas of computer, audio/visual and mechanical support. Michael is an accomplished musician, songwriter and worship leader. He is also the owner of Phun City Productions, a full music and audio recording studio, in place to assist Homegrown Praise and related musicians in the reasonably-priced production, posting, digitizing and downstreaming of original music. | |
Director of Public Relations, Dan Greenblat
One of the best-connected media professionals in the region, Dan Greenblat joins the Homegrown Praise team. He provides a remarkable writing and public relations skillset. Dan was PR Chairman for the 2003 Mission San Diego with Billy Graham. In that capacity, he helped draw crowds to the multi-day event that became the best-attended venue in the history of San Diego.